Der Schaltplan zeigt schematisch die Komponenten der elektrischen Anlage, die Funktionen und die Stromverläufe an.
In der Betriebsanleitung, die jedem Fahrzeug einst beilag, ist der Schaltplan im Format A5 abgedruckt, aber wegen dem Massstab und der einfarbigen Unterlegung nur schwer lesbar. Im Werkstatt-Handbuch ist der Schaltplan besser lesbar, da er dem Format A4 angepasst ist.
In der Tabelle ist angeführt in welchem Werkstatt-Handbuch die Schaltpläne abgedruckt sind.
Für die Modelljahre 1961 bis 1969 gibt es nur vier unterschiedliche Schaltpläne. Der Sicherungskasten enthält nur drei Schmelzsicherungen mit je 35 Ampere.
Bei den Modellen mit der D-Jetronic werden die einzelnen Komponenten durch 12 Schmelzsicherungen in unterschiedlicher Nennstromstärke gesichert.
Schaltplan in der Betriebsanleitung (Ausschnitt)
Elektrische Schaltpläne | Werkstatt-Handbuch
Elektrische Schaltpläne - Werkstatt-Handbuch schwarz/weiss
Modell
ch #
Modelljahr
Plan #
Quelle
No. 1
P1800, P1800S
1-7.000
1961; A, B
101632
1, 2
No. 2
P1800S, 1800S
7.001-10.000
B, D
101630
1, 2
No. 3
1800S
10.001-12.500
1964; D
101629
1, 2
No. 4
1800S
12.501-30.000
1965; E, F, M, P, S
101631
1, 2
No. 5
1800E
30.001-32.799
1970; T
104457
2
No. 6
1800E
32.800-37.549
1971; U
105727
2
No. 7
1800E
37.550-39.414
1972; W
106624
2; 3
No. 8
1800ES
1-3.069
1972; W
106625
2, 4
No. 9
1800ES
3.070-8.077
1973; Y
107472
2
Quellen
1 Werkstatt-Handbuch 3 Elektrische Anlage 1800; TP 10335/1; 1967
2 Verkstads Handböcker 3 Elektriskt system 1800; TP 1033/2; 1975
3 Werkstatt-Handbuch 1800E Vorläufige Ausgabe; TP 10581/1
4 Werkstatt-Handbuch Volvo 1800 E, 1800 ES Technische Neuheiten 1972; TP 10746/1
Colour Wiring Diagrams | Warren Townsend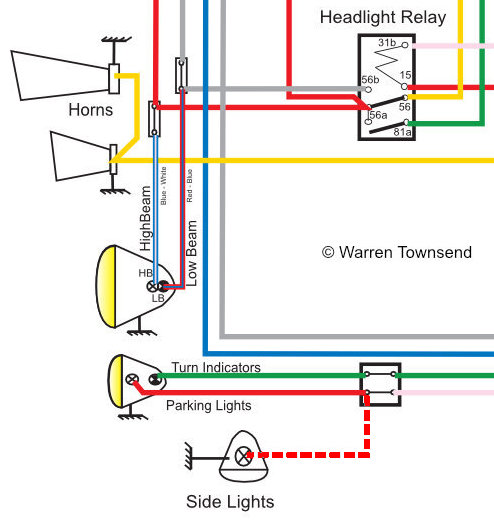 Artwork by Warren Townsend - 2019 - Melbourne Australia - Available for free use in the classic Volvo community
Based on an original Swedish Design Concept of the 1960s and 70s.
I have attempted to make these Wiring Diagrams as accurate as possible, however no responsibility is accepted for any consequential errors from their use.In some instances Volvo made mid run production changes, please also reference previous, or subsequent year's schematic.
Update August 2022 for P1800, 1800S and 1800E/ES:
I have completed a minor update to the wiring diagrams.
For the early cars I have repositioned the Rev Counter Pickup unit so it more closely represents the actual position of the unit in the car.
For the E and ES cars, there were some incorrectly drawn Connectors (no wire shown to connect the 2 ends of the connector – an error on original Volvo schematics and some duplications on my part) . I have also corrected the Interior Light switch on the ES cars (an error on my part on earlier versions) and corrected a wire colour on the (US specific) Door Buzzer on 70E.
Update April 2022 for P1800 and 1800S:
I have updated the Wiring Diagrams to include detail for wiring on MY64 Tachometer – to show the separate Rev Counter Unit on cars up to Ch # 10000.
Minor changes to Tachometer wiring is also shown with the Induction Loop Tachometers on MY64 through to MY69.
Update March 2022:
Corrections have been made to wiring circuits for BW 35 Automatic Transmissions.
Switch Terminal numbers have been added to the Headlight Dipper Switch across the P and S cars.
Changes have been made to the Interior Light - Door Switches - to be consistent across all Model Years (now showing circuit with doors closed).
Terminal designations have been added to additional Relays, for clarity.
Warren Townsend, thank you very much!
[www.volvo1800-120club.com]
Colour Wiring Diagrams - © Warren Townsend
Modell
ch #
Year
Version / Date
No. 1
P1800
1-6.000
1961-1963; VA/HA
P1800 1961-1963
V 2.7 Aug 2022
No. 2
1800S
6.001-8.000
1963; VB/HB
1800S 1963
V 2.6 Aug 2022
No. 3
1800S
8.001-12.499
1964; VD/HD
1800S 1964
V 2.7 Aug 2022
No. 4
1800S
12.500-28.300
1965-1968; E ,F, M, P
1800S 1965-1968
V 2.6 Apr 2022
No. 5
1800S
28.301-29.993
1969; S
1800S 1969
V 2.6 Apr 2022
No. 6
1800E
30.001-32.799
1970; T
1800E 1970
V 2.4 Aug 2022
No. 7
1800E
32.800-37.549
1971; U
1800E 1971
V 2.4 Aug 2022
No. 8
1800E
37.550-39.414
1972; W
1800E 1972
V 2.4 Aug 2022
No. 9
1800ES
0001-3.069
1972; W
1800ES 1972
V 2.4 Aug 2022
No. 10
1800ES
3.070-8.078
1973; Y
1800ES 1973
V 2.4 Aug 2022