Der Schaltplan zeigt schematisch die Komponenten der elektrischen Anlage, die Funktionen und die Stromverläufe an.
In der Betriebsanleitung, die jedem Fahrzeug einst beilag, ist der Schaltplan im Format A5 abgedruckt, aber wegen dem Massstab und der einfarbigen Unterlegung nur schwer lesbar. Im Werkstatt-Handbuch ist der Schaltplan besser lesbar, da er dem Format A4 angepasst ist.
In der Tabelle ist angeführt in welchem Werkstatt-Handbuch die Schaltpläne abgedruckt sind.
Für die Modelljahre 1961 bis 1969 gibt es nur vier unterschiedliche Schaltpläne. Der Sicherungskasten enthält nur drei Schmelzsicherungen mit je 35 Ampere.
Bei den Modellen mit der D-Jetronic werden die einzelnen Komponenten durch 12 Schmelzsicherungen in unterschiedlicher Nennstromstärke gesichert.
Schaltplan in der Betriebsanleitung (Ausschnitt)
Colour Wiring Diagrams | Warren Townsend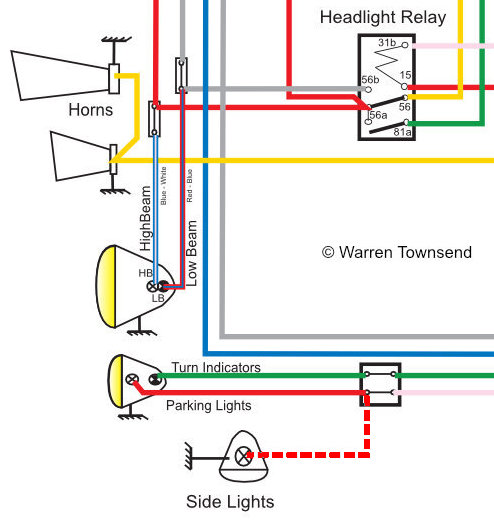 Artwork by Warren Townsend - 2019 - Melbourne Australia - Available for free use in the classic Volvo community
Based on an original Swedish Design Concept of the 1960s and 70s.
I have attempted to make these Wiring Diagrams as accurate as possible, however no responsibility is accepted for any consequential errors from their use.In some instances Volvo made mid run production changes, please also reference previous, or subsequent year's schematic.
Update April 2023: I have attached updated wiring diagrams for the Volvo 1800 E and ES cars and the 65-68 S cars.
For the E & ES cars, there is extra detail in the Fuel Injection circuits - clearer description of the Injector Ground circuit at the Manifold, functional detail in the TPS, functional descriptions of the Terminals/Wires from the ECU.
I have also updated the 65-68 wiring diagram, which includes the introduction of the Hazard Warning circuit for 1968 and the Brake Warning Light circuit for some 67 cars - the date & Ch # included in the diagram (earlier than previously documented). This Brake Warning Light change comes about from new information of a 1967 US delivered car (now in Israel), followed up by detailed study of the Parts Book to confirm the 1967 introduction of the Brake Warning Light in LHD cars from Chassis number 24125.
Warren Townsend, thank you very much!
[www.volvo1800-120club.com]
Colour Wiring Diagrams - © Warren Townsend
Modell
ch #
Year
Version / Date
No. 1
P1800
1-6.000
1961-1963; VA/HA
P1800 1961-1963
V 2.8 Mar 2023
No. 2
1800S
6.001-8.000
1963; VB/HB
1800S 1963
V 2.7 Mar 2023
No. 3
1800S
8.001-12.499
1964; VD/HD
1800S 1964
V 2.8 Mar 2023
No. 4
1800S
12.500-28.300
1965-1968; E ,F, M, P
1800S 1965-1968
V 2.8 Apr 2023
No. 5
1800S
28.301-29.993
1969; S
1800S 1969
V 2.7 Mar 2023
No. 6
1800E
30.001-32.799
1970; T
1800E 1970
V 2.6 Apr 2023
No. 7
1800E
32.800-37.549
1971; U
1800E 1971
V 2.6 Apr 2023
No. 8
1800E
37.550-39.414
1972; W
1800E 1972
V 2.6 Apr 2023
No. 9
1800ES
0001-3.069
1972; W
1800ES 1972
V 2.6 Apr 2023
No. 10
1800ES
3.070-8.078
1973; Y
1800ES 1973
V 2.6 Apr 2023
Elektrische Schaltpläne | Werkstatt-Handbuch
Elektrische Schaltpläne - Werkstatt-Handbuch schwarz/weiss
Modell
ch #
Modelljahr
Plan #
Quelle
No. 1
P1800, P1800S
1-7.000
1961; A, B
101632
1, 2
No. 2
P1800S, 1800S
7.001-10.000
B, D
101630
1, 2
No. 3
1800S
10.001-12.500
1964; D
101629
1, 2
No. 4
1800S
12.501-30.000
1965; E, F, M, P, S
101631
1, 2
No. 5
1800E
30.001-32.799
1970; T
104457
2
No. 6
1800E
32.800-37.549
1971; U
105727
2
No. 7
1800E
37.550-39.414
1972; W
106624
2; 3
No. 8
1800ES
1-3.069
1972; W
106625
2, 4
No. 9
1800ES
3.070-8.077
1973; Y
107472
2
Quellen
1 Werkstatt-Handbuch 3 Elektrische Anlage 1800; TP 10335/1; 1967
2 Verkstads Handböcker 3 Elektriskt system 1800; TP 1033/2; 1975
3 Werkstatt-Handbuch 1800E Vorläufige Ausgabe; TP 10581/1
4 Werkstatt-Handbuch Volvo 1800 E, 1800 ES Technische Neuheiten 1972; TP 10746/1