D-Jetronic - Literature
For care and maintenance of the D-Jetronic system, we recommend the VOLVO Service Manuals (SM). Those who have read up a little will realise that the injection system and its components are not as complicated as some people report.
The customer service manuals from BOSCH are available as PDF files on the Internet or as antiquarian booklets.
Volvo Service Manuals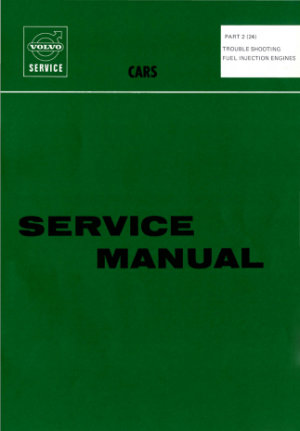 2 (24) Trouble shooting Fuel injection engines
TP 10812/1
3.000; 4.1973; Engelska; 36 pages [[200]]
Systematic troubleshooting with the usual measuring devices such as voltmeter and test lamp. The special measuring devices Bosch EFAW 193 and 228 are not required. Clear schematics and precise instructions for troubleshooting.
Service Manual 1800 E Provisional
TP 10579/1
4.000; 11.1969; Engelska; 70 pages [[210]]
TP 10580/1
1.000; 12.1969; Engelska; 70 pages [[200]]
This manual contains preliminary servicing instructions for the Volvo 1800 E model. Only those parts which, from a workshop point of view, differentiate the 1800 E from the 1800 S (1969 model), are dealt wit in this manual.
Checking the D-Jetronic with the BOSCH tester EFAW 228
VOLVO 1800 E, 1800 ES Technische Neuheiten 1972
TP 10746/1
1.000; 11.1971; Tyska; 56 Seiten
Dieses Handbuch enthält Wartungsvorschriften für die Personenwagen 1800 E vom Baujahr 1972, d.h. ab Fahrgestell-Nr. 37550, sowie für 1800 ES. Fahrzeuge mit Thermozeitschalter
2 (24) Einspritzanlage Motor B 20 E
TP 10698/1
2.500; 9.1971; Tyska; 36 Seiten
Inhalt: Alle Komponenten der D-Jetronic Einspritzanlage im VOLVO 1800E und VOLVO 140.
Ohne Thermozeitschalter, der erst ab Modelljahr 1972 verbaut wurde.
Technische Daten
Beschreibung
Funktionsweise
Prüfung mit dem BOSCH-Prüfgerät EFAW 228
Reparaturanweisungen
[[100]]