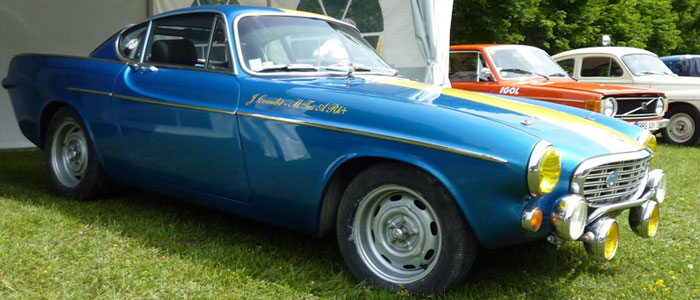 Schéma de câblage en couleur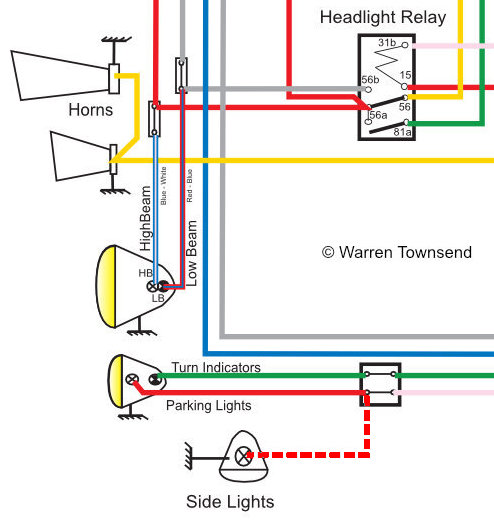 Warren Townsend (Volvo 1800-120 Club Australia) hatte vor einiger Zeit die elektrischen Schaltpläne der Modelle 1800E und 1800ES sehr sorgfältig bearbeitet und koloriert. Sie liegen im Format PDF vor und können somit beliebig vergrössert oder in Ausschnitten gedruckt werden.
Bei der Revision seines Volvo 1800E bemerkte auch Warren, dass die originalen Schaltpläne in den Werkstatt Handbüchern nicht so einfach zu lesen sind, nur schwarz-weiss und in das Format A4 gepresst. So zeichnet er zunächst den Plan für sein Fahrzeug nach. In der Volvo community stiess seine Arbeit auf grosses Interesse, er wurde gebeten auch für einen Volvo 1800ES einen Schaltplan zu zeichnen. Und das war der Start für das Projekt "Alle Schaltpläne der Modelle P1800, 1800S, 1800E und 1800ES, von 1969 bis 1973".
Eine Knochenarbeit, alle Schaltpläne zusammen zutragen, zu sichten und dann die verschiedenen Layouts in Vektorgrafik anzulegen! Die Bezeichnungen der Komponeneten sind im Plan eingetragen und müssen nicht extra einer separaten Tabelle gesucht werden.
Nous tenons à remercier Warren, qui fournit gratuitement aux électriciens des schémas de circuit aussi clairs !
Un conseil : imprimez le plan souhaité au format A3 et plastifiez-le.
Vous trouverez ici l'atelier et les schémas électriques.
Amazon Cars UK - Videos
Qui effectue des travaux d'entretien et de maintenance sur sa Volvo et est un peu incertain sans disposer d'une expertise suffisante et de manuels d'atelier ? Dans les vidéos des SPÉCIALISTES DU VOLVO CLASSIQUE, vous trouverez l'aide nécessaire en mots et en images ! Certes, en anglais.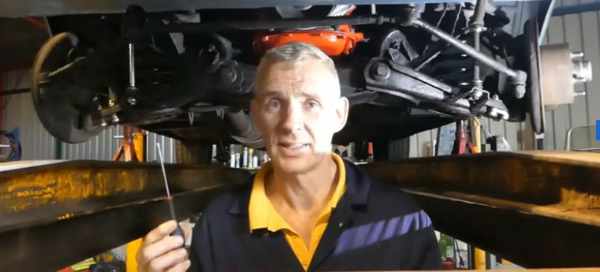 Voici seulement une petite sélection de la grande offre :
Replacing the dynamo with a modern alternator PV544, P1800, Amazon, LHD
Introduction to Amazon Cars Volvos of the 1960's and 1970's
PV444 "box of bits" approaches completion Emma's PV444
Fitting door seals All
Brake balance valve – deleting them P1800, Amazon, 140/164
Fitting a Lambda boss All
Lower Wishbone Bushes P1800, Amazon
D-Jetronic Loom Replacement P1800E, ES, 140E
Steering Components, Identify & Order All
Removing the rear hub/drum PV544, P1800S, Amazon
Volvo Amazon "Olga" a private viewing
140 Chassis Strength Upgrades 140/164
and many more
Merci beaucoup Emma et Rob !
under construction

The 7th Peking to Paris
36 days, 110 cars, 14 teams driving a VOLVO and these members of VOLVO P1800 - International Owners Club!
Home of the Peking to Paris Rally
54 - 1800S (1968) Mark Trowbridge (USA) / Janel Trowbridge (USA)


Blog
68 - 1800ES (1973) Erik van Droogenbroek (NL) / Tone Moller (NL)

Bienvenue
… sur ce site à tous les propriétaires et passionnés de VOLVO P1800, 1800S, 1800E et 1800ES.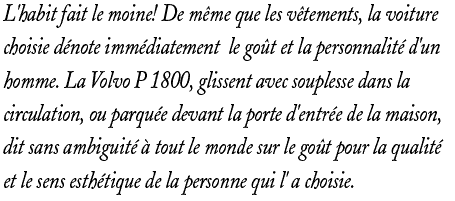 VOLVO P1800 - The Essential Buyer's Guide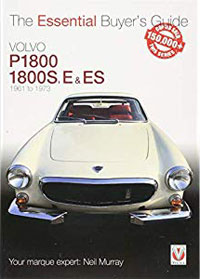 Whether already a Volvo P1800 owner, a prospective owner or simply an admirer, you'll find many useful nuggets of information here. Especially important if you are contemplating the purchase of one of the best looking classic sports cars ever produced, this handy pocket-sized book will guide you through how to select the right car, and provide essential advice on finding, buying and evaluating a Volvo P1800.
Covering all versions of the P1800 from carburettor-equipped Coupés to electronically fuel-injected Shooting Brakes (Estates), you'll find the correct original specifications, and advice on how to spot potential body and mechanical problems.
Perhaps not the typical Volvo P1800 owner, Neil's hankering for the model derived from a life-long exposure to Volvo cars in general – not from "The Saint" TV show, as some might suppose!
The autor Neil Murray: His father was in the Volvo Owners Club, and Neil accompanied him to many rallies, where the P1800 gradually became the focus of his attention. He has owned several 1970s-era Volvos since the early 1980s; in fact, his first Volvo, a 1973 144S, was his first car, bought before he could even drive.
Neil acquired his first P1800, a 1970 1800E, in 1988. He has owned and worked on them ever since, and now shares his first-hand experience and expertise in this book.
N'achetez pas une VOLVO P1800 sans acheter d'abord ce Essential buyer's Guide!
The gentleman's guide to BOSCH D-Jetronic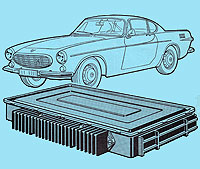 Die Beiträge und Hinweise zur elektronisch gesteuerten Benzineinspritzung BOSCH D-Jetronic werden auf dieser Site immer umfangreicher. In einem eigenem Kapitel sind die Beiträge, Dokumente, Tabellen, Listen und Abbildungen für Wartung, Pflege und Reparatur systematisch geordnet. Darüber hinaus haben wir auch Informationen für die Besitzer eines Fahrzeugs der Baureihen VOLVO 140 oder VOLVO 164E mit D-Jetronic aufgenommen.
Klicken Sie in der Navigation auf BOSCH D-Jetronic.
Dr-DJet: Das Kompendium

Nous voudrions particulièrement attirer votre attention sur le « Compendium D-Jetronic du Dr-DJet » en ligne. Les composants du D-Jetronic pour les véhicules de tous les constructeurs sont décrits en détail et donnent des instructions pour l'analyse et la suppression des défauts et des erreurs.
Le collègue Dr-DJet est également l'opérateur et l'un des modérateurs du « Forum D-Jetronic », dans lequel des questions sont posées sur D-Jetronic et auxquelles il est répondu avec compétence, des discussions sont ouvertes et des solutions sont élaborées ensemble. En allemand et anglais.
Original Technical Publications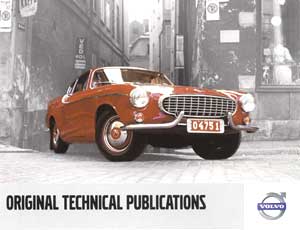 Grams instead of kilograms
Volvo Cars Heritage presents Original Technical Publications - Volvo Service and workshop literature transferred to USB. A small stick replaces kilos upon kilos of paper when you need to work with your dassic Volvo or order spare parts.
The OTP range consists of all available service, workshop and parts literature for all Volvo models between 1927 and 1999 divided on 11 sticks. For more information about OTP please contact Original Technical Publications for VOLVO.
TP-51949 - 1800, 1800 S, 1800 E, 1800 ES - 1961 to 1973
English, Swedish, German, French, Italian and Spanish content
VOLVO 1800E - Zuschlag für 60.000 EUR!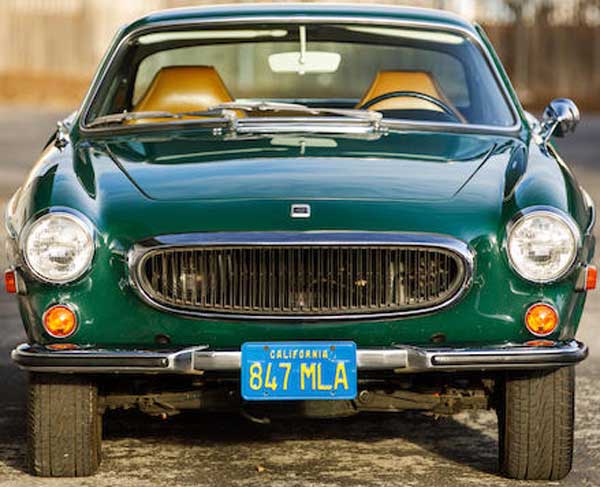 Dieser VOLVO 1800E wurde am 17. Januar 2019 vom internationalen Auktionshaus Bonhams in Scottsdale, AZ, USA versteigert.
Cypress green (110), Motor B 20 F, knapp 40.000 Meilen, zumindest auf dem Tachometer.
Ein weiterer Beweis für die These » Mit jedem vom Besitzer verhunzten Fahrzeug, steigt der Wert der gut gepflegten und sorgfältig gewarteten «!
VOLVO P1800 (1961) only 200 EUR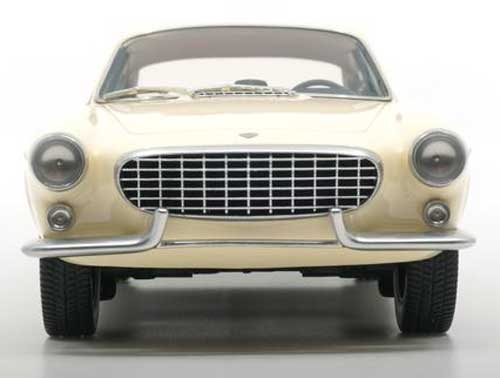 This 1/18 Volvo P1800 scale model is an exact copy of the emblematic swedish car. This car became famous all around the world in the sixties as Roger Moore's car in the TV Show "The Saint". The very first 1961 Jensen version of the P1800 is a DNA exclusivity!
Please watch our pictures and video, check the beauty of the shape and the quality of the interior.
Quantity produced: 320 pieces
Each chassis numbered