Hall of Fame
Bill Webb
Bill Webb wrote and published in 1988 the book "Swedish Iron aka VOLVO 1800", which serves not only as a production history of the VOLVO 1800, but covers detailed restoration techniques and specifications.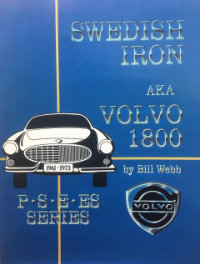 Swedish Iron: Aka Volvo 1800 : 1961-1973 : 1800 History and Restoration Guide
1988, B. Webb Publishing; 152 pages
The specifications center around that of the VOLVO 1800 series, however the procedures and descriptions of various step-by-step restoration techniques can be used as a general guide for the repair and maintenance of many other cars of similar construction.
Bill Webb is a true sports car enthusiast having owned over 45 cars since the late fifties. He drove almost every model of VOLVO produced, starting with the purchase of a 444 sedan in 1958. He owned seven VOLVO 1800s. Also he has had a particular addiction to European sports cars of the 60's, many of which he has restored and shown at national levels.
Bill Webb has encountered many of the same problems and implemented the same repair methods over the years. During this time the following cars were purchased and restored with many reaching national status in show car competition:
1958 VOLVO 444
1959 VOLVO 122S
1964 VOLVO 1800S
1965 VOLVO 1800S
1965 Jaguar E Type
1966 VOLVO 122S
1966 Jaguar 3.8 MKII
1966 VOLVO 1800S
1967 VOLVO 1800S
1967 Jaguar 3.8 MKII
1968 Alfa Romeo Coupe
1968 VOLVO 144S
1969 VOLVO 1800S
1969 Jaguar E Type
1970 VOLVO 1800E
1970 VOLVO 164
1972 Jaguar XJ6
1973 VOLVO 1800ES