Events
2018 - International Volvo Meeting (FR)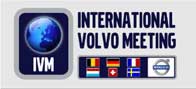 9th International Volvo Meeting
31 August - 2 September 2018
Le Mans - France
For the first time since its creation, this 9th IVM will take place in France. Through this opportunity the Volvo Club of France who is getting settling this event, is very happy to greet you in one of the most mythic town related with motorcars racing : LE MANS.
And more, this region is a high place regarding French historic heritage, and we will start this IVM by visiting some historic sites along our touristic driving on the Friday behind the wheel of our VOLVOs.
The Saturday will be allocated to Le Mans downtown center visit as first, the worldwide known racing cars temple´s visit in a second.
We invite you reading carefully following detailed program for this IVM 2018 built on 3 days according your disponibility, you will benefit opportunity attending partly of this program.