Boeken
Es ist nicht einfach eine komplette Liste aller Bücher zu erstellen, die den VOLVO P1800 erwähnen oder beschreiben. Wir versuchen es dennoch und stellen in diesem Kapitel Bücher über den VOLVO P1800 und die Geschichte von AB VOLVO vor.
Wenn Sie genauere und zusätzliche Informationen haben, freuen wir uns über eine Mitteilung.
VOLVO P1800 - from idea to prototype and production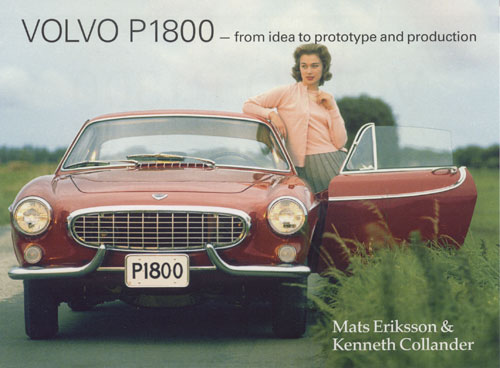 VOLVO P1800 - from idea to prototype and production
This book teils the story of the Volvo P1800, about the time when the first idea was born and the process that led up to its design, engineering and the first years of series production. A story which had no given answers, a story full of dramatic and exciting events, a story filled with challenges and problems.
The story brings the reader back to 1956 and covers the events up to 1963, letting the people who were part of the project and process behind it teil us what really happened, richly illustrated with photographs that have never been published before.
The book is the Svenska Volvo P1800 club tribute to the Volvo P1800, to the people who made the car, put it into production, created the myth, and the enthusiasts of the world that care for the Volvo P1800, its heritage, its history and its future.
Author: Mats Eriksson & Kenneth Collander
Publisher: Trafik-Nostalgiska Förlaget and Swedish Volvo P1800 Club
Year: 2011
Physical descr.: 280 p. : ill. 500; 297 x 225 mm
Subject: Volvo automobile -- History
ISBN 978-9 8627571-6
Languages: Swedish or English
Swedish Iron Aka Volvo 1800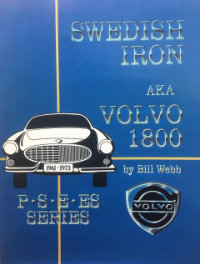 Title: Swedish iron: aka Volvo 1800: 1961-1973
1800 History and Restoration Guide
Author: Webb, Bill.
Publisher: Self Published
Year: 1988
Physical descr.: viii, 152 p. : ill. 200; 29 cm
Subject: Volvo automobile -- History
LC Control No.: 8890022
Price: 50.00 USD
Volvo Amazone en P1800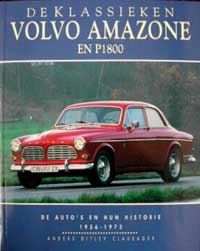 Title: Volvo Amazone en P1800: de auto's en hun historie 1956-1973
Author: Clausager, Anders Ditlev
Elmar B.V, 1996
79 p., : ill., 21 x 26 cm
ISBN 978-9038904641
Language: Dutch
VOLVO 1800ES

Title: VOLVO 1800ES : Het verhaal van een cult-klassieker aan de hand van de officiele publicaties
Author: van der Steege, Eric Jan
xxx : xxx, 2016
xxx p., : ill., 30,5 x 30,8 cm
Language: Dutch