64 Steering gear
Flexible joint disc
Hardy-Scheibe Gelenkscheibe Gummigelenkkupplung
flexible joint disc, flex disc
Der Name Hardyscheibe geht auf John Leslie Hardy zurück, Die Firma Hardy Spicer & Co Ltd. hatte die Konstruktion 1938 zum Patent in Grossbritannien angemeldet.
Im Volvo 1800 ist in die Lenksäule eine 4-Loch-Gelenkscheibe eingefügt. Sie gleicht leichte Versetzungen der beiden Achsen zwischen Lenkrad und Lenkgetriebe aus, fängst Stösse auf und verhindert Vibrationen.
Die Gelenkscheibe besteht aus einem Elastomer (synthetischer Kautschuk), das mit einvulkanisierten Fäden verstärkt ist. Durch vier verpresste Metallbuchsen werden Schrauben gesteckt und so die Flansche des oberen und unteren Teils der Lenksäule verbunden.
The steering wheel is grounded by contact with the steering column. The steering column ist grounded by a strap (Pos. 6) that bypasses the steering coupling's flexible disk.
Bei der Revision eines gebraucht gekauften Fahrzeugs sollte die Hardyscheibe sorgfältig inspiziert werden. Eigentlich sollte die Hardyscheibe eine hohe Lebensdauer haben, sie kann jedoch durch häufige Lenkbewegungen im Stand mit der Zeit ausreissen oder durch Lösungs- und Schmiermittel angegriffen werden.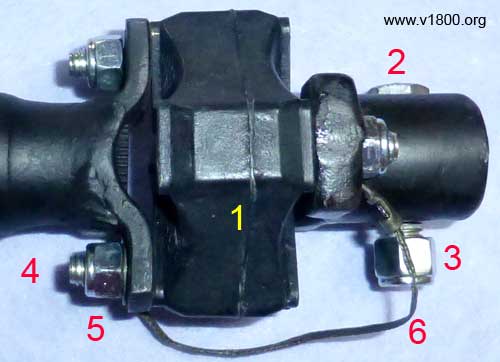 Volvo P1800/1800S/1800E/1800ES
Pos.
Part No.
Description (Quantity)
Dimension
SW
1
664429
Flexible joint disc
2
940162
M6S 8.8 Bolt (1)
3/8UNCx38
1/2 ″
3
950354
Lock nut (1)
3/8UNC
1/2 ″
4
192027
Hex kex bolt (4)
3/8UNCx38
9/16 ″
5
950353
Lock nut (4)
5/16UNCx11,6
9/16 ″
6
Ground strap