Picture Galleries
In der Rubrik Bildergalerie präsentieren wir Berichte von interessanten Veranstaltungen, wir stellen besondere Fahrzeuge in den Schauraum und riskieren auch einen Blick in den Hinterhof.
Falls Sie zu dieser Sammlung beitragen wollen, senden Sie uns doch Informationen. Vielen Dank!
Volvo 1800 Picture Gallery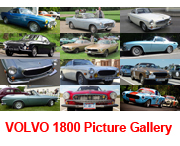 Volvo 1800 Picture Gallery is a section of the Swedish Volvo P1800 Club's website with a mission to collect and display photos of remaining Volvo 1800's in any condition, from rust buckets to concours d'elegance.
Karl Eric Målberg ist der Chefredakteur und Webmaster der Volvo 1800 Picture Gallery.
Falls Sie Ihren VOLVO 1800 » registrieren « wollen, senden Sie eine Mail an Karl Eric mit Daten und Bildern (optional). Selbstverständlich ist der Eintrag kostenlos, ohne jede weitere Verpflichtung und auf Wunsch anonym,
In dieser Rubrik Veranstaltungen berichten wir von besonderen internationalen Veranstaltungen und Treffen.
Showroom
Article Count: 6
In dieser Rubrik stellen wir vor
Berichte von Fahrzeugen, die aktuell revidiert werden
Besonders sorgfältig gepflegte Fahrzeuge
Fachkundig restaurierte Fahrzeuge
In dieser Rubrik zeigen wir
Fahrzeuge, die fachmännisch restauriert werden
Feingeschliffene Triebwerke
Sorgfältig instand gesetzte Komponenten
Die hohe Schule der Karosseriebaukunst
Hier werden ungepflegte, ranzige und laienhaft zusammengeschusterte Fahrzeuge abgestellt. Leider!