Die Baureihe P 1800 | Daten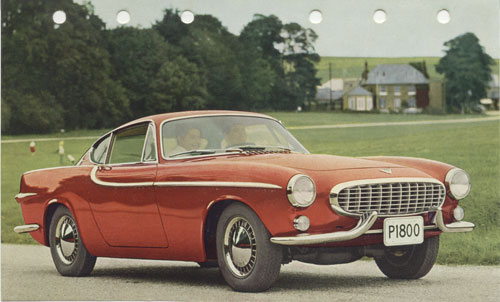 Modelljahr oder Baujahr?
Immer wieder gibt es Missverständnisse, wenn nach dem Modelljahr oder dem Baujahr eines P1800 gefragt wird.
Das Modelljahr definiert den Zeitraum in dem ein bestimmtes Modell produziert wurde. Während den Betriebsferien in Juli wurden die Fertigungsbänder umgestellt, technische Veränderungen oder Änderungen im Sinne der Modellpflege. Ab August wurden die Fahrzeuge dann einem neuen Modelljahr zugeordnet.
Das Baujahr ist identisch mit dem Kalenderjahr.
Als Beispiel: Ein Fahrzeug, das im September 1968 vom Band rollte, gehört in das Modelljahr 1969, jedoch zum Baujahr 1968.
Die Angabe des Modelljahrs erlaubt den Spezialisten den Steckbrief für ein Fahrzeug zu präzisieren.
LHD, RHD, Links- und Rechtslenker

LHD - Left hand drive
Verkehr auf der rechten Strassenseite, das Lenkrad befindet sich auf der linken Seite. Das Fahrzeug ist ein Linkslenker.
Schweden stellte 1967 am Dagen H von Links- auf Rechtsverkehr um. Die Fahrzeuge in Schweden waren aber schon vorher linksgelenkt.
RHD - Right hand drive
Verkehr auf der linken Strassenseite, das Lenkrad befindet sich auf der rechten Seite. Das Fahrzeug ist in Rechtslenker.
Länder mit Linksverkehr: In Europa: Grossbritannien, Ireland, Zypern und Malta. Australien, Indien, Südafrika, Japan

Scheinwerfer, Spiegelgläser, Teile der Lenkung sind unterschiedlich.
Besonderheiten der einzelnen Modelle
This information will be useful to those interested in tracing the development of the car. Throughout the production VOLVO did not define between series years, and random changes where made when parts were depleted. Serial numbers were used to monitor these changes rather than series numbers or years. Some of these are as follows:
The Jensen cars* identifying marks are the full disc style wheel covers, eggcrate style aluminium grille, clear parking light lenses, and heavy chrome side mouldings which have a curved upsweep on each door. An intricate VOLVO emblem was mounted on each side of the rear roof pillar. These emblems were made in two pieces with enamel colored Swedish flags and appeared between 1961 and 1963. The early license plate housings on cars (serial no. 001-4199) was oval shaped, before taking a rectangular configuration with squared-off edges. Curved upsweep bumpers (bull horns) were used in front with long wrap-around bumpers on the rear. The chrome moulding around the front and rear windshield was of a much heavier material on the Jensen cars, than used on the Swedish models.
Starting with serial number 6001, the cars were designated the "S" series or 1800S. The first 2000 cars then produced in Sweden were almost identical to the Jensen cars, except the large wheel covers were dropped and the upholstery changed. A stamped, one piece aluminium grille replaced the expensive die-cut model in 1965 and amber colored parking lights were added. The bullhom bumpers were then phased out and replaced with straight end sections with rubber pads. Beginning with serial number 21000, the side upsweep mouldings were changed to straight stainless steel runners which ran along each side of the car. In 1967, a more intricate and stronger front grille in stamped aluminium was used. This grille was painted black on 1970-71 models.
In 1969, side marker lenses were added at each fender on cars for the U.S. market. The cars were fitted with a B20 series engine with Stromberg carburetors. The steering was equipped with a collapsible shaft and a larger brake booster. A dual line was also added to the existing front disc and rear drum brakes.
The major identifying marks for the 1800E cars introduced in the U.S. in 1970 included front and rear side marker running lights, blacked out grille, mag style wheels and rear fender air extractor vents. The gas tank filler was moved and disc brakes were added both front and rear. The horsepower was raised to 130 bhp with the addition of fuel injection and the heavier transmission from the six cylinder 164 sedan.
The dash was updated with new instrumentation and an anti-steering lock system was added. Side marker lights did not appear on European models.
High back reclining seats were added and the upholstery was redesigned for the introduction of the cars to the U.S. market in 1972. Additional switches were added to the dash along with a short storage console between the seats; plus a black plastic grille was used in place of aluminium. The cars became available with automatic transmission for the first time in both the coupé and ES or sports wagon models. Horsepower ratings were reduced, a result of the clean air act, which allowed the car to run on 91-octane fuel.
Wider wheels and tires with chrome lug nuts and trim rings were visual exterior changes on the 1972 cars, and on the first 1,117 ES models, the two rear emblems between the tail lights were placed one over the other. Thereafter the VOLVO emblem and the crest were placed side by side.
Minor changes were made in 1973 with more and more pressure from federal safety standards straining the clean lines of the car. Shock absorber type bumper mounts were the next addition.